Are you often told by people that your art is good or the things that you do as an artist are creative and communicative? Creating designs and illustrations might be your hobby, but how about turning it into a profession? Sounds interesting? Read on!
If you're planning to pursue a career in graphic designing, then you might be wondering about the skills and qualifications required. You might end up asking yourself: Where do I even begin to learn graphic design? You're certainly not alone here. There is a lot of competition out there right now, but there is also a lot of potential in the field.
Graphic design isn't just website layouts or image editing; it also includes infographics, posters, mobile apps, book covers, broadcast graphics, title sequences, and more.
There is so much in store for you. Also, the entire field of graphic design is boundless, there are no limits to ideas and creativity and hence no limits to what you can or cannot do.
What does a Graphic Designer do?
Graphic designers are communicators who develop visual concepts. They use both real and virtual art forms, such as images, text, and graphics, to communicate ideas to inspire, inform, or captivate customers. Graphic Designers combine ideas with technology to communicate ideas through images, videos and layouts on web screens.
To create a visually appealing item, a graphic designer combines various aspects. They produce works of art using lines, colours, textures, shapes, sizes, value, and space. By graphically delivering messages, graphic design makes it simple for a company to market its products and services.
Graphic designers are frequently required to connect with clients and consumers to create a design. They collaborate with other graphic designers, marketers, business analysts, authors, and programmers to build effective and communicative designs, campaigns, or websites.
The role of graphic designers changes depending on the field of work. They may hold expertise in one specific area of graphic designing but their overall work includes selecting photos and typefaces, developing layouts, and designing logos etc.
How to build a career in Graphic Design?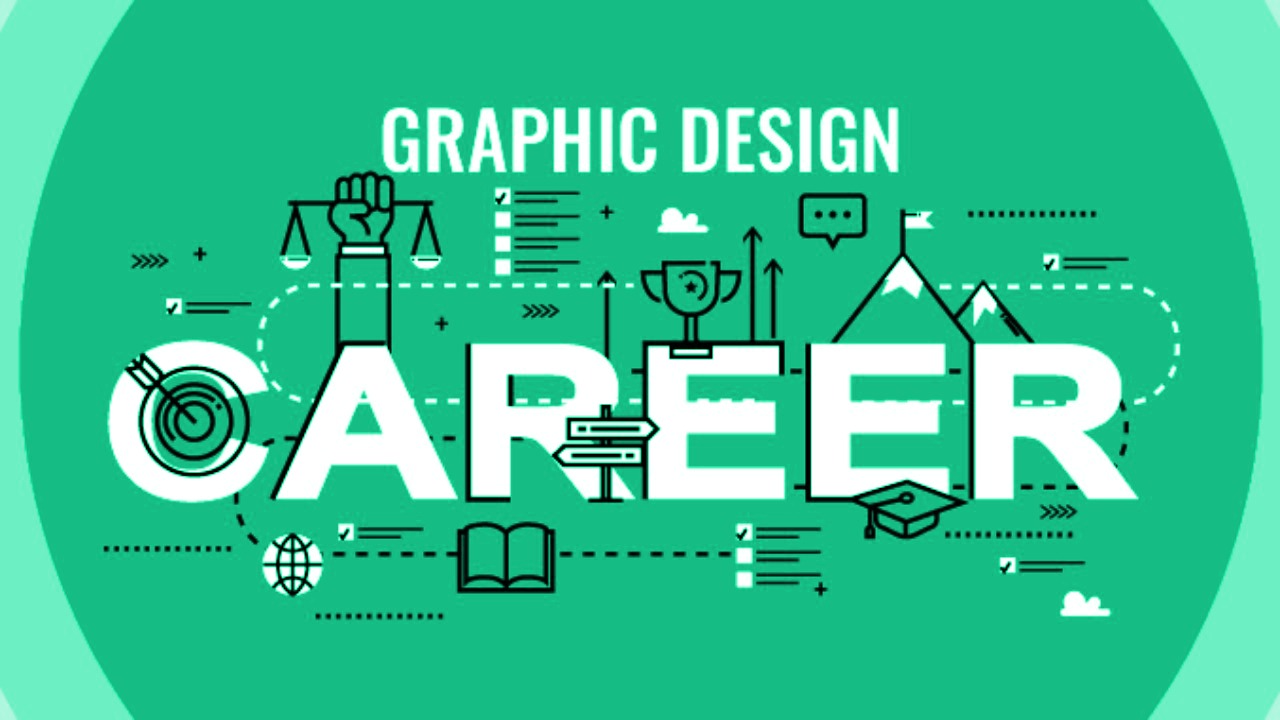 Your designing career is all about seizing opportunities, working hard, seeking improvement, and being passionate and determinant. We list some ways that you can follow to pursue your graphic design career.
Study Graphic Design –
People who do not have a formal education can become graphic designers. A certification course or a professional degree, on the other hand, remains the safest and most reliable path into the industry. It's not only about finding a job; you'll be able to do a good job if you have a solid foundation in design theory and practice.
Moreover, not everyone can afford to study and leave the workplace. These days with the availability of online study platforms, learning graphic design has become flexible and convenient. Some online learning platforms like Subhe, Coursera, Udemy etc. offer certification courses for graphic design with flexible study hours and certified degrees. These platforms are the best source if you're thinking about studying while retaining your job.
It is better to study the basics before moving ahead in your career.

Improve Software Skills
Formal study courses are more about enhancing skills by emphasizing the basics. Having a good understanding of software is imperative to today's world of graphic design.
However, it is a truth that most design job advertisements need you to be proficient in specific design tools. The most prevalent of which being Adobe Photoshop, Illustrator, and/or InDesign. You can learn graphic design software by taking up specific courses or through youtube tutorials.
Whatever method you use to educate yourself, the most essential thing is to apply what you've learned. Learning is one thing, but its application is a must.
Training or Internship
Learning and practising are all good, but where would you use it if you don't have the client base or the platform for its implication. An internship with a good design studio or in-house department can provide you with vital experience that you can utilise throughout your design career. You'll gain some exposure as to how the design industry runs, develop a better understanding of clients' needs and requirements, and managing the workload.
Use online recruitment platforms, social media job facilities like Facebook, send your resumes or portfolios to various recruiters and professionals. Bear it in your mind, that you have to make the best out of this internship and then there's no looking back.
Build a rapport with other professionals
We all like listening to stories from the people we admire. Your senior or other professionals in the industry can be a great source to take notes and advice for your career. Let those people know that you are ambitious and that you respect them. Your contacts and network will be really valuable in your career ahead and give you many opportunities. Keep it fresh, so they can look up to you whenever these biggies in the industry have a good opportunity in hand.
Social Presence
Remember you live in a digital world. The work that you put out socially on different social media platforms or different websites speaks more about you.
You can express, interact and build -up your career with your online portfolio. And it does not limit to Twitter, Instagram or Facebook pages. Showcase your work on your own website or use online portfolio websites such as Behance, dribble, Wix, adobe portfolio etc. for the same.
Take up a side project
It's about your originality and creativity that attracts potential clients and customers. You can always work as a freelancer. Take up your own projects, be it ebooks, postcards, E-cards, logo designing or anything that can give you experience and good pay. Doing things on your own might seem a little difficult and risky but it's worth a shot. Be confident and bold in your presentation and work for the client's satisfaction. The graphic design industry is never out of work. So explore your creativity and get the best out of it.
Conclusion
We hope that by now you have a good idea of what a Graphic Designer does and how to pursue a career as a graphic designer. Another point that you should take into account is to be nice, bold and humble. Client understanding is really important. Other than that, be creative, innovative, original and introduce new ideas and themes in your work.