We begin by asking a few simple questions – Do you enjoy the functionality of your mobile application? Can your users find everything they are looking for easily? Is your designed application easy to navigate? A well-functioning mobile application is one that provides users everything they need in one go without giving it too many attempts.
For most people, searching for daily items, restaurants, and news articles on a mobile device is a basic activity. More than half of the web traffic is generated by mobile applications by users to aid these surfing activities.
Moreover, people use their mobile phones to watch movies and videos (through mobile apps), surf social media and use E-mail. Given this focus on search-based activities, it's critical for success-oriented businesses to have top-notch mobile apps. They must deliver a Search and Discovery experience that is quick, clever, and simple to use.
The way you design your mobile application and incorporate these user-friendly features makes a lot of difference in the long run. These features will stick with your mobile application for a long-time and people are going to interact with it daily. Let's look at the design challenges and how we can create an ultra-friendly UX for mobile search and discovery to make the application more easy and interactive.
Mobile-search UX Design and Discovery – Challenges
There are some unique challenges that are associated with Mobile-search UX design and discovery. These are:
Mobile phone screens are substantially smaller than those of laptop and computer screens
Mobile connectivity fluctuates
Mobile is used typically and roughly while people are in working mode like- walking, taking a train, etc.
Virtual keyboards in mobile devices are a little difficult to work with
A good UX (User experience) in mobile requires minimum input, but Search and Discovery can take some effort
Fortunately, there are effective methods for overcoming these obstacles, including how to properly arrange your search bar and display your search results.
What makes an effective Search and Discovery UX?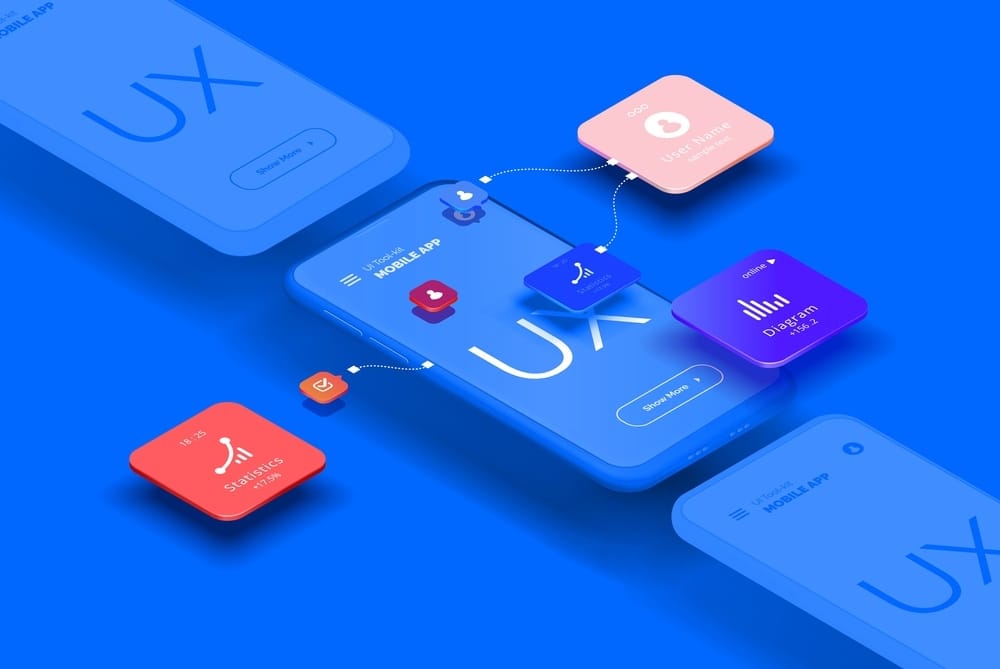 The objective of a mobile app designer is to apply sound design concepts, ensure outstanding usability, and accommodate poor connectivity. All of this must be determined while considering the following factors:
Data's size and complexity
The level of knowledge the consumers are expected to have to realize what they are really searching for
In the search experience, the purpose of search should be emphasized (searching for something specific) along with the new discovery of ideas and content on the application (browsing and being open to new ideas)
If you want to build a great mobile user experience, there are a few different ideas and approaches that you can use while creating a mobile application. Here are some of the most reliable tips to create an effective and efficient mobile Search and Discovery experience for your users.
Small Size, Big Purpose
The number one rule for creating a mobile application is the theory i.e. "Less is more". In simple words, a design that fits with every other element on the mobile screen but also does exactly what is needed to do. The concept is to make an easy-to-use design and layout for a small screen.
The method of search on your mobile application should be simpler and easier for your users, so that they can make a quick search for food items, to find something new, location, etc. You want to give individuals relevant content that doesn't overwhelm them or force them to keep refining their search. Proper information should be exhibited with minimal information input. Selection tools and search bars should be easy to navigate and intuitive sometimes.
Use Search Icon
Those mobile applications with a clear search icon are easier to work with. When your audience interacts with your application, they would prefer to locate and find everything without putting much effort into it. Some mobile apps perform best when users are prompted to utilize a search bar. This is where the element of Search Icon becomes useful.
A search icon clearly gives the answer to – "Where to search?". This way users don't have to spend time navigating the element to start their searches.
Appropriate Search-Transition Screen
Use these elements to improve the Search:
Recent searches – It shows the previously searched items by the user
Trending – It is based on what the user wants. This can help them to discover new items
Categories – Product category filter
Instant Results – This works well when you have a good quantity of database to provide suggestions
Autocomplete Options
Autocomplete is the suggestions made by the application when the user enters their searches. When the term or phrase they want appears, they just have to tap it to search without having to write the complete sentence. The integration of autocomplete enhances search results and the user's experience.
Personalized Shopping Experience
You can develop an eCommerce search suited to your consumers' demands using AI techniques that store collected data. It has the potential to significantly enhance conversion. You can, for example, offer buyers recommendations for comparable or complementary things based on what they've already searched for, or give them similar options to buy from where they can pick up the item right away.

Conclusion
To create an Ultra-User-Friendly UX for Mobile search and Discovery, make your application fast, reliable, immediately responsive, and resourceful. Your audience would stay only when they find what they are looking for. However, simple search and discovery are not completely useful. The application should also have a conversion rate, and that can be achieved when the application is able to create an impact on the user. Through a User-friendly mobile application, you can increase your conversion and reduce the bounce rate, and have profits in the business.