Amidst the millions of mobile apps available on AppStore today, a countable number of apps have achieved the competitive edge to provide appropriate usability. Some apps have become popular and successful while others are still managing to survive in the competitive market. An app that is appealing and most feasible works for its users. It is an outcome of efficient User Experience (UX) and User Interface (UI) design techniques involved in building the app. Today, almost all well-known mobile applications are developed using UI/UX design.
One thing that almost all mobile applications share as a similarity is that they all have good visuals and feel. Users certainly want to work on an application that has good looks and feels good while using them. A visually appealing and engaging app is the product of good User Experience (UX) and User Interface design (UI). An impeccable User Interface would create the app more attractive, and an excellent user experience will leave an impact on the user's mind. So, let's look at how UI/UX Design is important in Mobile apps development.
What is User Interface and User Experience?
User Interface
User Interface for a mobile application generally includes the look and feel of the app. This includes the visual and appearance of the application as well as the convenience in the usability. The main task of a UI designer is to work on the presentation by focusing on the app's graphic design for providing the best to the users.
User Experience
User Experience ensures the usability of the app and determines the point of view of the users. If UX is done appropriately, then the application can leave a great impression on the user's mind. It contains the elements that function according to the user's mindset, by providing better usability, simplicity, and improved interaction. A good UX design requires a deep understanding of the market, the users, and their needs.
How does UI/UX Design help in the Development of Efficient Mobile Applications?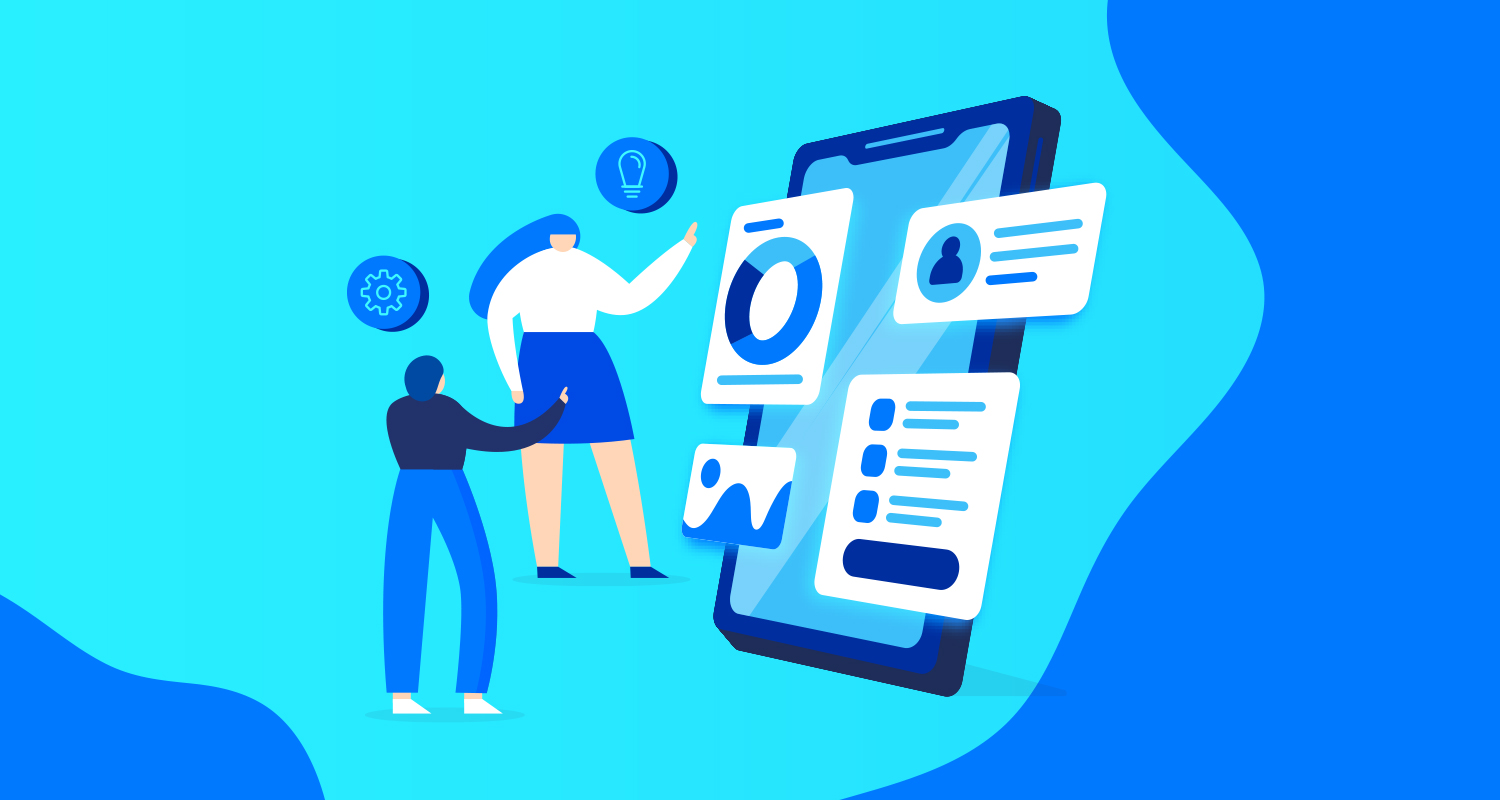 For most app developers, the most crucial factor is to create an excellent and efficient UI/UX design for their application. Hence, thorough market research and pre-planning is requisite for creating a mobile application. The main goal of an app designer is to create something that compensates for the needs of the users and provides an exact solution to it, and an effective implication of UI/UX design helps you achieve it.
Here are the reasons why you need a good design for your mobile application:
UX caters to fast results
Users' needs are unique. They want a miniaturized desktop experience on a handy mobile screen. UX designs are tailored to match the mobile environment. Hence, making designs that fit small screens is paramount and can be accomplished through UX. Also, users want fast results with less effort and an efficient UX design helps in bringing exactly that.
Here's how efficient UX designs helps in building a mobile application that attracts and engages users:
Minimal content
Simplified navigation
Ensures continuity and consistency
Importance in business
The time has changed certainly. In contrast to (mobile apps) being associated with large corporates and businesses, this new digital era has completely changed such requisites. The majority of businesses use mobile applications to serve their clients and interact with them through a positive medium. A mobile application is a bridge between the brand and the consumers. An attractive and efficient mobile application makes a big impact on the buying decision of a user. If the user does not like the app, they probably won't buy the product. A mobile application built with UI/UX will help you in – building brand image and connecting to your customers.
Helps in Understanding your audience for Mobile App Development
Before starting to create a mobile application, thorough market research is important. Understand your user's needs deeply, and note down important points before beginning. Every user has a different need, and UI/UX is the most suitable way to allocate it. UI/UX allows you to segment your audience, which is important to determine the wants and needs of each group. Understanding your audience is the first step to ensure user satisfaction which determines the compatibility of your mobile application.
Ensures Smooth Usability
A mobile application should have smooth functioning and easy navigation. The idea is that the user should not get confused and locate wherever they want to go. It requires a balance in innovation and usability. Instead of overdoing things, put features that are simple and easily understandable. This can be easily achieved using UI/UX design. UI/UX not only improves the application's workflow but also makes it visually appealing. Hence, with better clarification in the application, a user has no doubts or confusion while using it.
Provides easy functionality
If good UI/UX design techniques are involved, your users are likely to enjoy fascinating content and simple navigation. In simple terms, your user should be satisfied with your application. It can be achieved if your application has easy methods and the work is smooth. An easy application attracts more customers. Moreover, your users become loyal and keep using your app whenever they need it, as long as it provides what they really require.
Enables the establishment of an updated Mobile Application
If an appropriate amount of investment is done in UI/UX designs, then users will hardly find any problem or difficulty with your application. A mobile application that is not built on efficient UI/UX design, will require frequent updates and upgrades. This can be a little challenging. Whereas, an application that is completely updated and does not require frequent up-gradation saves the time and money of both – the owner and the user. It ensures that your business does not face loss and the application works smoothly.

Conclusion
An efficient UI/UX design is a critical aspect of mobile applications. The success and popularity of the mobile application completely depend on the User Interface and User Experience of your mobile application. An application should be engaging and should allocate the need of the users. People will only use it again if their work was done in the first place. And the understanding of this work is done, is achieved through market research and implementation in the mobile application using UI/UX designs. Understand the preference of your audience and put it into the application through efficient UI/UX designs.