Filmmaking can be a little messy but video editing is a straightforward path. It is a methodical process and one of the most important stages of filmmaking. After going through the rough and stormy process of filmmaking, which involves – shooting schedules, scriptwriting & spontaneous changes, video editing is the stage where one could sit with undistributed attention.
However, video editing in itself is a very complex process. It definitely is a one-place job but it surely is not as easy as it seems. Video editing is a hard structure of combined stages that are accomplished by following a set of practical practices. Here, we are going to break down the process of video editing into specific stages to maintain an efficient workflow.
Stages of Video editing :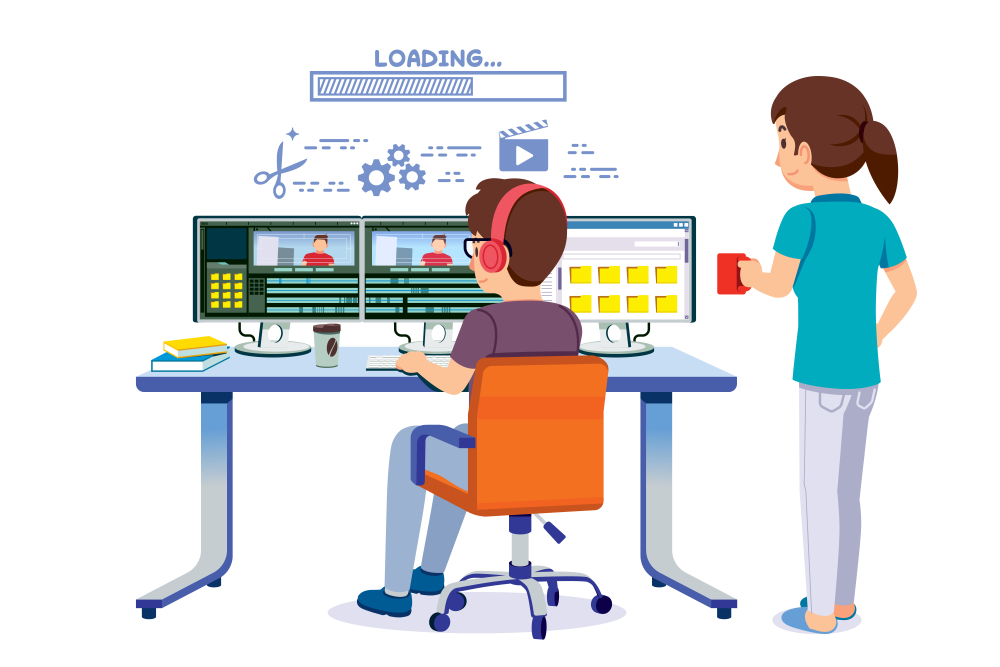 Organize
Before you even consider adding material to your timeline, you must first prepare your footage for editing. Nothing hinders editing like a disorganised media library. A fun project might rapidly become a boring task if the appropriate clip isn't found on time.
Distribute your media into labelled folders/bin. Delete the unwanted files to prevent delay in finding the correct file. You could also use a smart folder system, which automatically imports content into folders based on user input details, depending on the software you're using. Sort your media into folders by separating it. This could be done on the basis of the shot, the location, or even the camera utilised. After that, sync your audio to the video.
Before editing the material, it's necessary to sync the audio with the video to get them into alignment. The audio part includes – music, sound effects, dialogues (if the footage is shot with dialogues), etc. Most editing software now has a built-in sync feature that works flawlessly for syncing audio with the footage.
Assemble & Review
A term associated with this stage of video editing is – first assembly. The first assembly involves putting all of that meticulously collected material into a timeline that aligns to the storyboard for the film. To make this step more manageable and organized, editors often break this process by dividing all scenes before sequencing them all together.
The first assembly gives you the first glimpse of your video. With this curated linear video, you can compare or slot along the same take all along your timeline till you get the desired finished product.
While it's tempting to get right into the edit and start editing clips into the timeline, it's preferable to string out and evaluate all of your media first. Even if you're a self-shooter, it is better to know which shot is better than the other. A review may reveal that another shot performs better.
Rough Cut
This stage can be called – the edit stage. Once your media is organized, reviewed, and assembled, the next step is editing. The Rough cut works like a blueprint for your workflow.
As the name suggests, rough cut is the rough editing that could be done ideally. This stage does not deploy deep edits and corrections, instead, this step is to set out the base for deeper and finer editing. The edit does not have to be meticulous but the content should be understandable.
With the rough cut, you'll be able to compress that long first assembly into a single, nice and concise version. This implies going through each take and selecting the best one to keep.
What comes next is to work on transitions, adding pauses, titles, narrations, etc. This part is all about your creativity or if you're working under a director then their expectations with the project.
Fine Cut
After refining the project on the rough cut stage, move on to filtering each and every bit of the frame. Pay your attention to microscopic details in every single cut so that the video runs seamlessly. Fine cut is the last stage for correction. Thereby pay attention to details and rectify the mistakes in your video.
In the fine cut, you revise any intricate issues that were overlooked in the rough cut. While some shots in the rough cut may have been a few seconds too long, it is at this stage that can adjust the length.
Here you have the liberty to work with your creativity while paying attention to the details. The details so corrected should comply with the whole mood of the video and should be adjusted accordingly.
At the end of this stage, you will find yourself in a position where you can watch and review the edit and even find it ready to publish. But don't be too hasty, because you are one step behind.
Finalize
When you believe your edit is complete, it's about time to finalize and publish your project. This step is very much similar to the fourth step i.e. final cut. However, they are both comparatively different as there's a difference between refining your project and finalizing it.
While working on every little detail, errors are bound to occur. Review your edit not only on your editing workstation, but on a mobile device, or your TV. Upload a demo file on youtube to check how it looks online.
Additionally, make sure to check audio levels. Check if they sync with the entire video.
Also, it is at this stage where you start color grading your video. If done earlier, you might waste your time deleting a whole section later. This stage is convenient for color correction and color grading.

Summary
As discussed, these are the well-defined and systematic steps of the video editing process but these are not structured rules. Not everyone in the industry follows the same process. Video editing process can differ but the end result should be pleasing to the client or the director and if it's an individual project, then to you. However, for content creators and solo shooters this is the most proficient video editing process.