So, you have been reading about these buzzing words UI/UX Freelance Designer and the perks of having a career in the same. A range of areas exists in design-related roles ranging from industrial designs (furniture, cars, etc), print design (brochures, magazines, and other publications) to tech (mobile apps, websites). There has been a recent influx of numerous tech companies that have been working tremendously well in focusing upon creating diverse interfaces for screens. This influx has created many newer design roles, and UI/UX Designer positions are one of them. 

First things first, I would emphasize one foremost thing, and that is UI design and UX design are two different elements of the same user experience. While UX is an abbreviation for user experience with a primary focus upon how a particular product or service works and how people interact with it. A UX designer keeps in mind the brand attributes, information access, and much more. UI- User Interface on the other hand focuses on the look and layout of a particular product and service. This takes into consideration the colors, typography, and contrast ensuring that the user experience with a product/service is good. This sounds like an interesting career option, right?
People have been driving their interest in this lucrative field. Yes, creativity, flexibility, fulfilling work, variety, and ohh not to forget the competitive salaries are the most important factors.  These alluring perks are helping people pursue a career in this breath-taking field.
One thing that I am very sure of is that the UI/UX Designer jobs enable the enjoyment of the best out of both the worlds; they're right in the middle of the tech industry and have a fulfilling exposure to human interaction. The businesses have now become customer-centric and have been depending upon UI/UX Design principles greatly. These have been of immense help lately because of clear customer expectations and are curating products accordingly.
Are you quite impressed with this career? Well, read on to know how candidates with UI/UX design credentials on their resume have been increasing their career bandwidth and making whopping salaries, and what their prime work responsibilities are. 
Cater to the look and feel of the product through user guidelines, branding, customer analysis, design research, and user guides. 

Take into account the interactiveness and responsiveness of the product or service by adapting to all device screen sizes, animations, implementation with developers, and prototyping. 

User Researcher

Content Strategist

Usability Tester

Prototyping 

Wireframe Expert

Information Architecture

Iteration
With the advent of modern technology, apps and websites have gained pivotal importance, thus how do you imagine life without UI/UX Designers? So if you're still wondering what it takes, it's probably just the right time for you to pause and contemplate this budding career. Don't take a toll on yourself sitting and surfing websites, wondering about a lucrative career option while the right one is just in front of you, and read on how it is a great career opportunity for you!

What is the scope of a UI/UX Designer in India?
There's an exciting career choice waiting up for you, but have you been questioning yourself lately about what will be the future of your career decision? There are abundant businesses in the marketplace, and companies are looking forth to stand at the top of their game for survival in this competitive world. Well, if they have a well-executed user interface and superb design, this certainly can give them that edge.  This is a skill-driven field that holds ample responsibilities and has an unlimited career scope.
Yes, you heard me right, companies have been constructing user-friendly websites and apps for meeting the explicit user needs. And, this is the work of a UI/UX Designer. Thereby, we see that the future holds a lot of potential for any person with the right vigor, creativity, and has a keen eye to detail, and not to forget the exclusive UI/UX salary packages for a comfortable lifestyle. A person with an amazing skill set and vigor to learn and bring about a change can earn a handsome salary in India, and abroad. However, if Freelancing is your choice, you can earn laurels while enjoying the comforts of your home at the same time, which is even better. 
Quite aware of the work responsibilities and career scope in this skill-driven field? Let's now embark upon our journey of how to become a UI/UX Designer.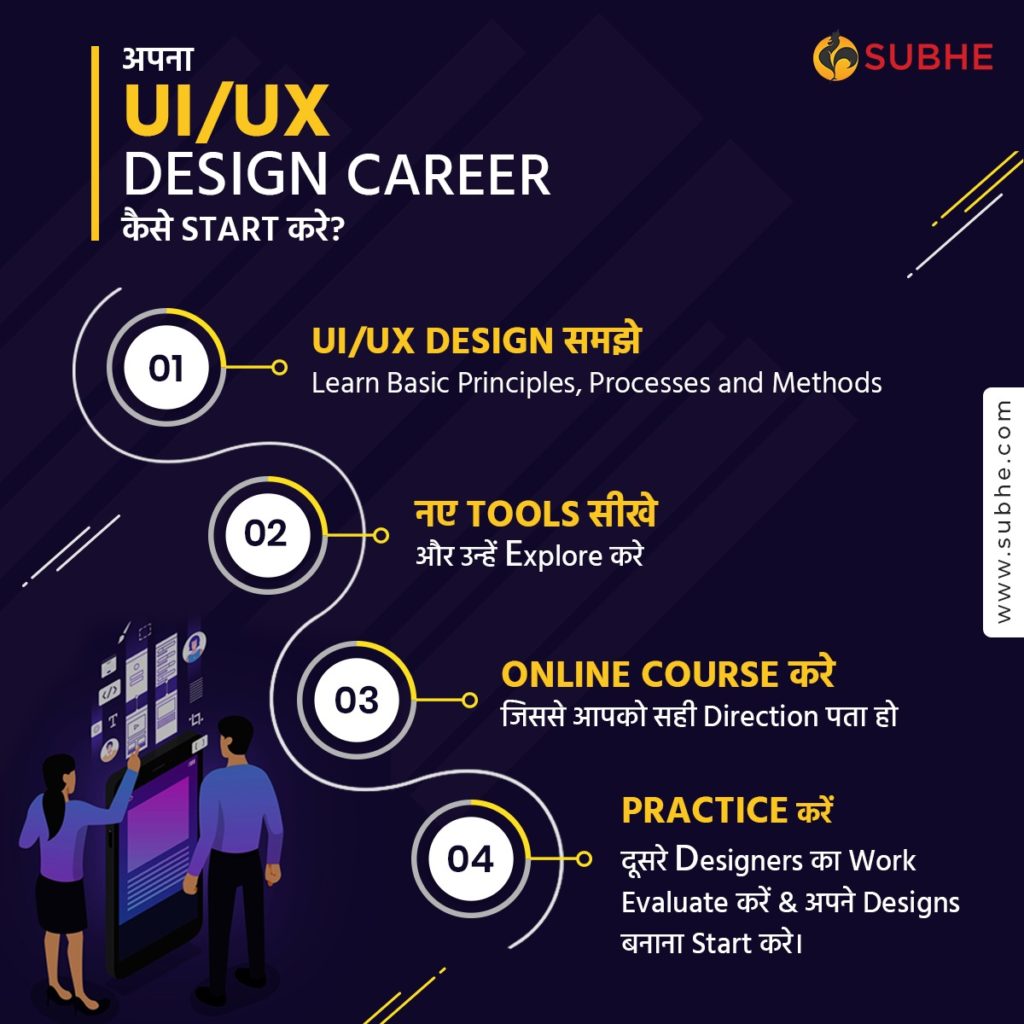 Step-by-Step Plan of Action
This work sounds pretty interesting, right? However, you might be wondering as to where to start.
Well, one thing I would like to point out right away is that "You don't have to be born with it." The only thing that can make you a successful designer is consistent practice and learning. 
Some of the initial steps for becoming a successful UI/UX designer are: 
Gain Familiarity with UI Principles
The first and foremost thing that you can do is develop a basic understanding of design principles so that you can enter the designing world more confidently and creatively. After doing so, you will have a better bent of mind as to why a particular element will look good and why it has the chances of failing. Color, Contrast, Balance, Consistency, and Typography are some of the basic principles that you need to be aware of.
Dwell onto the creative UX Process:
The next step consists of understanding the creative UX process. This process is the ability to know and use some creative phrases that every person into this field must be aware of. This is divided into four distinct phases namely: Discovering, Defining, Developing, and Delivering.
Discover

: Here is where a project starts. Designers usually undertake the process by researching, taking inspirations, and then gathering ideas.

Define

: This stage defines the idea taken during the discovery stage for the creation of a clear creative brief.

Develop

: Designers create concepts, prototype them, and then test and iterate for further providing solutions. This process is immensely helpful since trials and errors help designers in the improvement and refinement of their ideas. 

Delivery

: The final phase is where the project is finalized, produced, and then launched.
These four processes are very vital for a UI/UX Design.
Study tools for effective work:
Mastering of certain tools is the key to developing alluring designs. Have a stronger grip over necessary tools and platforms like LinkedIn, HeadHunter, etc. for finding work and developing a clear understanding of what UI/UX skills employers are looking for. Some excellent tools that you should master are:
Sketch

: This is a vector-based tool that helps you in resizing almost everything without sacrificing the sharpness of your product. This is an amazing tool for wireframing and prototyping. 

Figma

: This is the first tool that supports the in-browser interface. It is powerful and helps in editing tools and comes with many handy features- a one-stop-shop tool for prototyping, designing, and gathering feedback. Figma has a constraints feature that adapts to your designs automatically with screen changes, helping you reuse different elements across your designs. A great tool, isn't it?

Adobe XD

: You might feel at home if you already have some familiarity with Adobe Creative Cloud Suite. This is a versatile tool that offers exemplary features for prototyping, sharing, collaborating, and designing. This budding vector-based tool works exceptionally well for designing and prototyping user experiences for mobile, web, and even voice.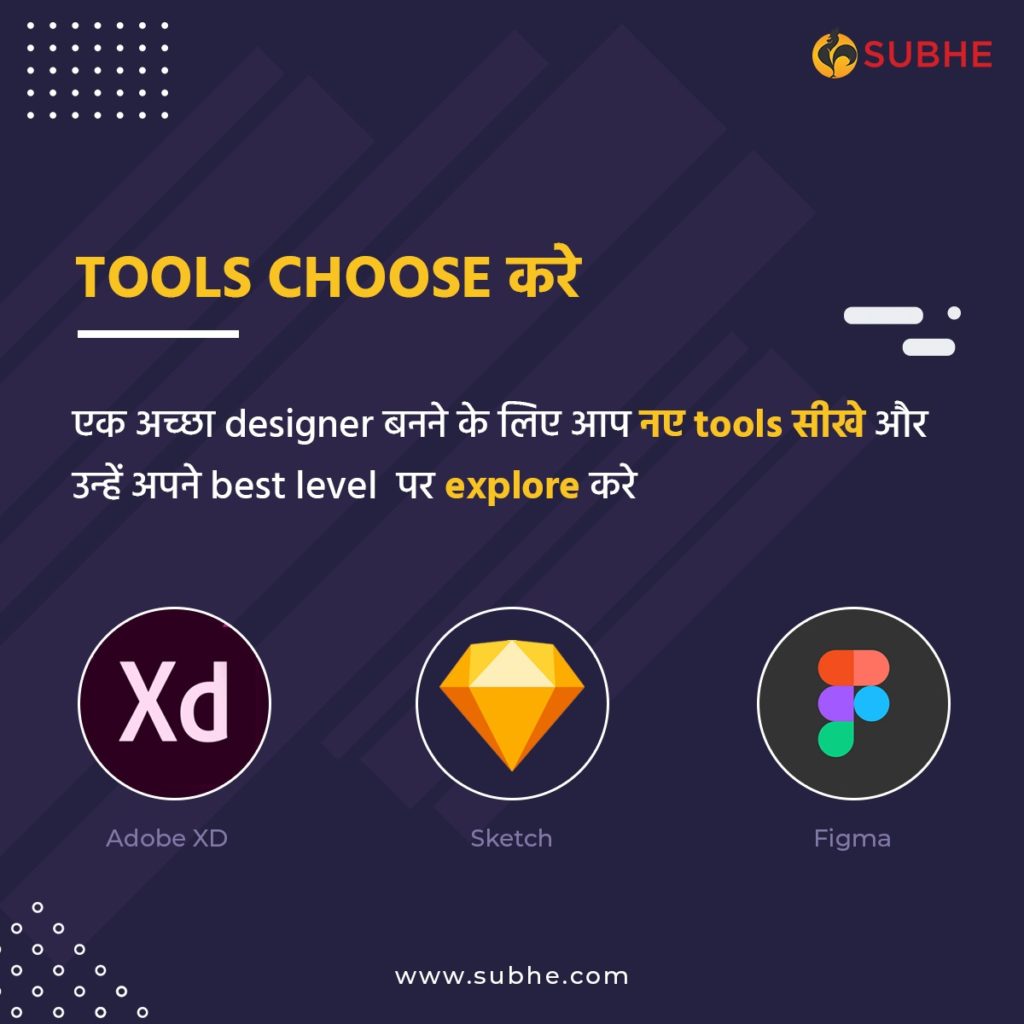 There are numerous other tools available like InVision, Zeplin, and others. However, the above-mentioned tools are the best for kickstarting your career. 
Envelop yourself with Design:
Take a deep dive into design, and start taking notice of other people's work. Make great use of available resources like Behance, Dribble, Awwaards. This step will help you greatly in viewing the kind of work others are doing and enable you to form a design track for yourself; learning and taking inspirations from the fashion trends, and indulging in invaluable decision-making. There is certainly nothing better than learning from other people's journeys!
The saying Practice Makes Perfect completely goes well here. Everyone's aware of the fact that getting clients and jobs without prior experience is like hitting the bull's eye. So, how about breaking this cycle by practicing on your own, and creating fake projects for yourself. If you're wanting to work on fake projects, well, dribble gives you access to a whole lot of them!
Many people still wonder about the importance of courses. Well, I'd like to add on this that some people have a greater quest for learning and digging the roots of the new-fangled profession at home. Some prefer learning by watching YouTube videos, reading articles, and books while others feel the necessity of surrounding themselves with an environment that has design everywhere. If you belong to the second category, and have some financial independence and have some time to spare, I would recommend taking up a course. An online UI/UX Freelance Designer course is just the right option for you since it tends to pave a path of success for you while inculcating all the knowledge you need. You get the gist, right?
Create a portfolio and a resume:
The last and the most important step to launch your career as a UI/UX Designer is to create an alluring portfolio and a resume. This is the only key to getting a job.  A portfolio is nothing but your business card and is the door to help the employer decide whether he should be initiating an interview process with you or should they be looking somewhere else. Since you're a beginner and it'll take time and skills for you to have your own website, I would recommend using the online platforms like Behance and Dribble for submitting your projects.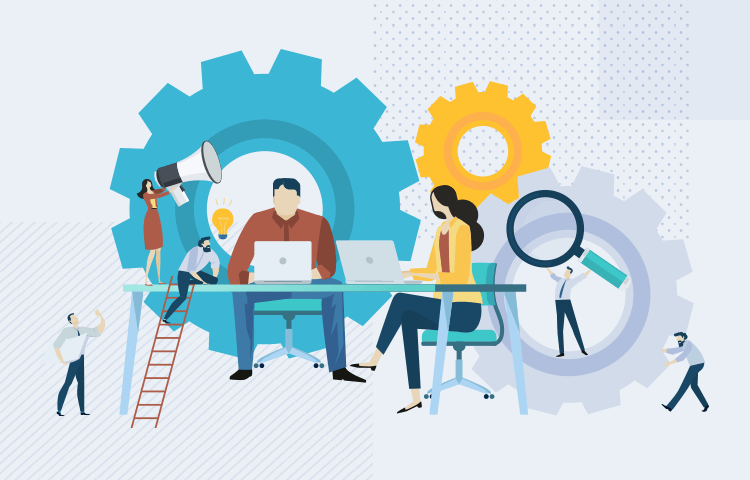 What you should do now?
Get hands-on knowledge of UI/UX Designer

with a 3 months online course.

Become a qualified

UI/UX Designer

and earn a certificate of completion.

Talk to a career advisor and discuss this offbeat career option, if you have a knack for website design, psychology for human interaction, and visual design.