If you're into the field of UX designing, then you must've heard of the word 'wireframing'. It is the most crucial stage of the designing process. Wireframing is the blueprint that is laid down by a designer to trace the designing journey. What is it and why is it important in UX design?
What is Wireframing?
Very similar to an architectural blueprint, wireframing is also called the structural part of the project. It is a two-dimensional skeletal structure of a web designing project. Any design process should begin with a rough wireframe to lay the groundwork for visual design, user interface, and user experience. In other words – start from scratch before directly jumping on designing.
The basic layout is simple enough to give a hypothetical idea of the designs but complex enough to act as a concrete foundation for your project. A wireframe is commonly used to lay out content and functionality on a page while taking user needs and user journeys into consideration.
Generally, wireframes are used in the early developmental project, before all the content and elements are added.
Wireframes are useful for the following reasons:
● Gives UX designers a basic screen structure to begin the work
● A reference point for the development
● Showcasing the experience to the stakeholders or client
● Exploring ideas
● Serves as a basis for prototyping and testing
Advantages of Wireframing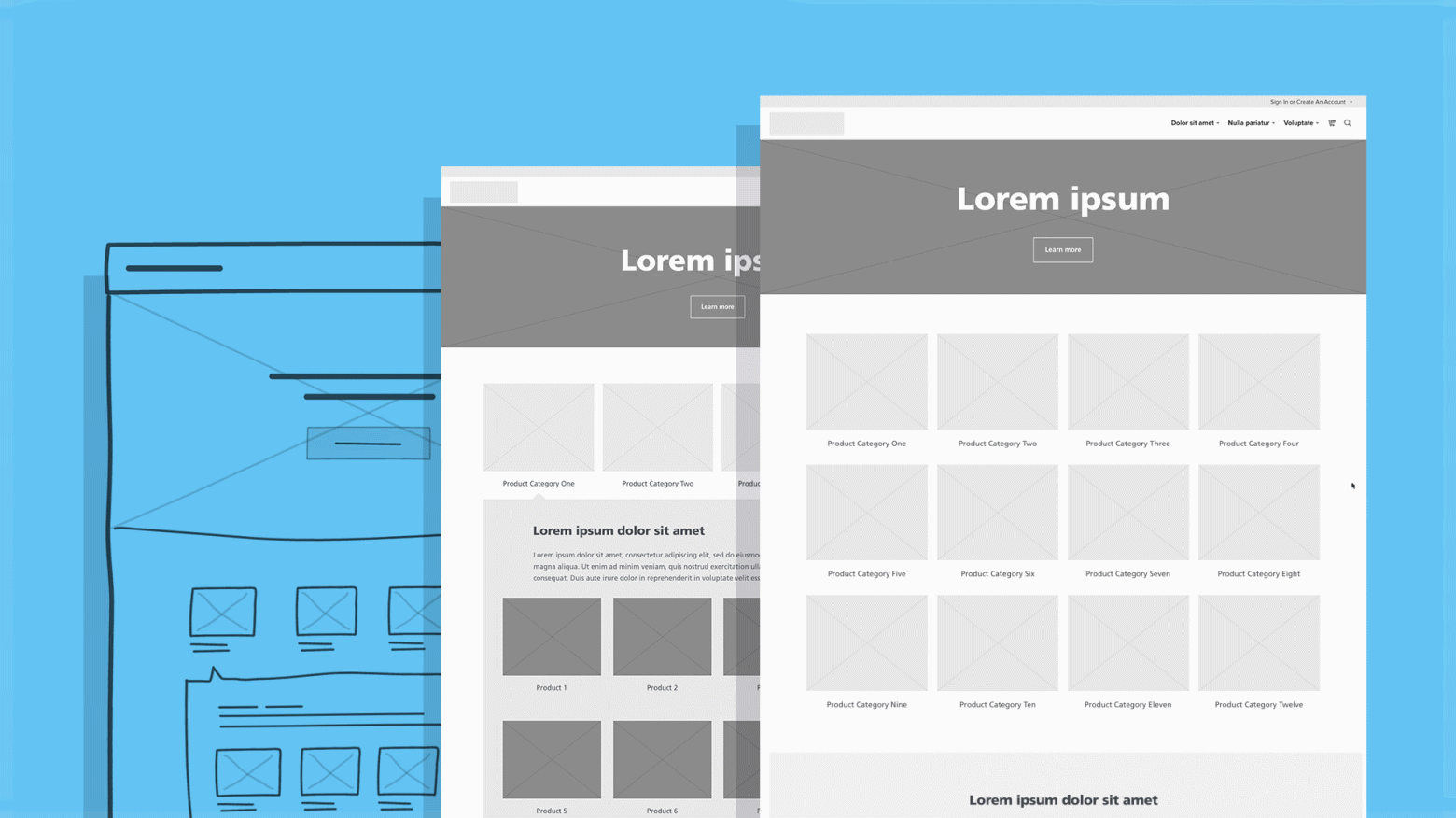 One of the most significant benefits of wireframing is that it provides an early visual that can be used as a base to review with the client. As it is the structure of the design, any changes or modifications can be made at the early stage of development.
Users can also use it to provide early feedback for prototype usability tests. Wireframes are not simply to review or make changes to the design, once approved by the client, they can also direct confidence to the designer. The designer may have a clear vision, or a systemized planning to work on the designs by omitting any errors along the way.
One of the most essential advantages of wireframes is that they allow you to accommodate user research like brand research, user personas, user scenarios, user journey etc. into your design and functionality.
From a professional perspective, wireframes ensure that all the elements, content and functionality are placed correctly on the web page, according to the requirements and needs of the client or the business. It acts as a fundamental base with space for modification and changes. So, if your client doesn't agree with the design you can always go back to erasing it and modifying it accordingly. Furthermore, this structural design can act as a bridge between the members of the design team to agree with the vision and scope of the project.
Types of Wireframes
1. Low fidelity Wireframe – These are generally rough paper sketches with the most basic concept or the idea of the design. The content and visuals in this type of wireframe are usually static.
2. High fidelity Wireframe – In comparison to low fidelity wireframes, these are very meticulous and have minor details that are generally missing from low fidelity wireframes.
Lo-Fi is quick and easy to make while Hi-fi is detailed and requires more time.
Wireframes for UX Designers
Wireframing is the most integral part of the design process. Wireframes place usability at the forefront of the design process. It is the structure of the design before execution. Designers typically assess the usability of a design throughout the development process – from wireframes to prototypes to the final deliverable. Any modification in between becomes convenient as you already have the base set for your design.
Static wireframes are no longer dead-end deliverables, thanks to new technology that allows designers to add interactivity in seconds, allowing them to quickly create low-fidelity prototypes.
Creating a Wireframe: Points to Note
Let's go over some wireframing basics. Most designers begin with the essentials: a pen and paper. These easy-to-use tools are the quickest way to get your ideas out of your head and into the world. Once done you can use tools like Figma, Adobe XD, Sketch, etc. that allow wireframing and designing on the same platform.
There's no need to go overboard and be fancy. These are the basic ideas that need to get laid down on paper. Some simple guidelines that you should follow are:
No need to use colour – Use the basic colour i.e black and white, or maybe highlight some parts with grey. This is called keeping it greyscale. This way the structure of the website becomes clear to the client, without getting distracted into the hub-bub of elements.
Clarity – Your wireframes are to ensure that a client's questions are answered. And not to confuse them instead. Keep things simple and to the point. An ambiguous design and pattern is only going to confuse you, your team and the user. Make sure that the vision is clear and achievable without causing any distractions throughout the process.
Maintain Consistency – Be clear about what you have to add and what you are going to discard or change eventually. Stick to a vision, so that your team members will know what they need to follow. Fonts, shapes, colors, spacing, buttons should be consistent and similar for all elements in the wireframes. This will avoid complexities.
Simplicity – It is advisable to keep simple font style, size and colour. The user only needs a rough idea of the website, not the actual website. Keeping things simple would allow implementing changes at the initial stage. Your wireframe should be a visual representation of your site's framework and how it will be navigated. At this stage, attractiveness is not a factor.
Use Symbols – At this stage, adding images or actual elements becomes senseless. The best practice is the use of symbols. simple rectangles and squares as placeholders, with an "x" through the centre of the box will indicate where an image will be placed. Similarly, you can demonstrate where you'd put a video by using a triangle as a play button in the centre of the box. Placeholder boxes like these make it easier to create wireframes and test them with users.
Do's and Don'ts of Wireframing
Do's
Simplicity is the key, so keep wireframes simple
Offer a variety of ideas
Do a thorough research for designs and ideas
Work with your team to build up creativity into your workflow design
Make sure the wireframes are easy to follow
Don'ts
Don't skip any step or any part of the website or app
Avoid using colours in your wireframe designs
Draft, don't draw or try to make it pretty.
Don't stick to one design, give options or be prepared to discard them
Wireframe Testing:
Wireframes are essentially low-fidelity prototypes. Drafting wireframes and presenting them to users and stakeholders is a simple way to obtain quick feedback without a significant investment of time or development resources. The process from concept to evaluation takes hours (rather than days or months), allowing you to quickly validate your work or pivot in a new direction.

Takeaway
You can reduce the total amount of time and energy required to get your idea out into the world and in front of your users with the help of wireframing tools using the wireframing and prototyping process.
You should now have a set of wireframes to present to your client, gather user feedback, or present to your project team. It is likely that you will need to do a few interactions and duplication, but again it's all part of the game. While wireframing is just the structural stage, what comes next is the actual design. Wireframes will help you throughout your journey.